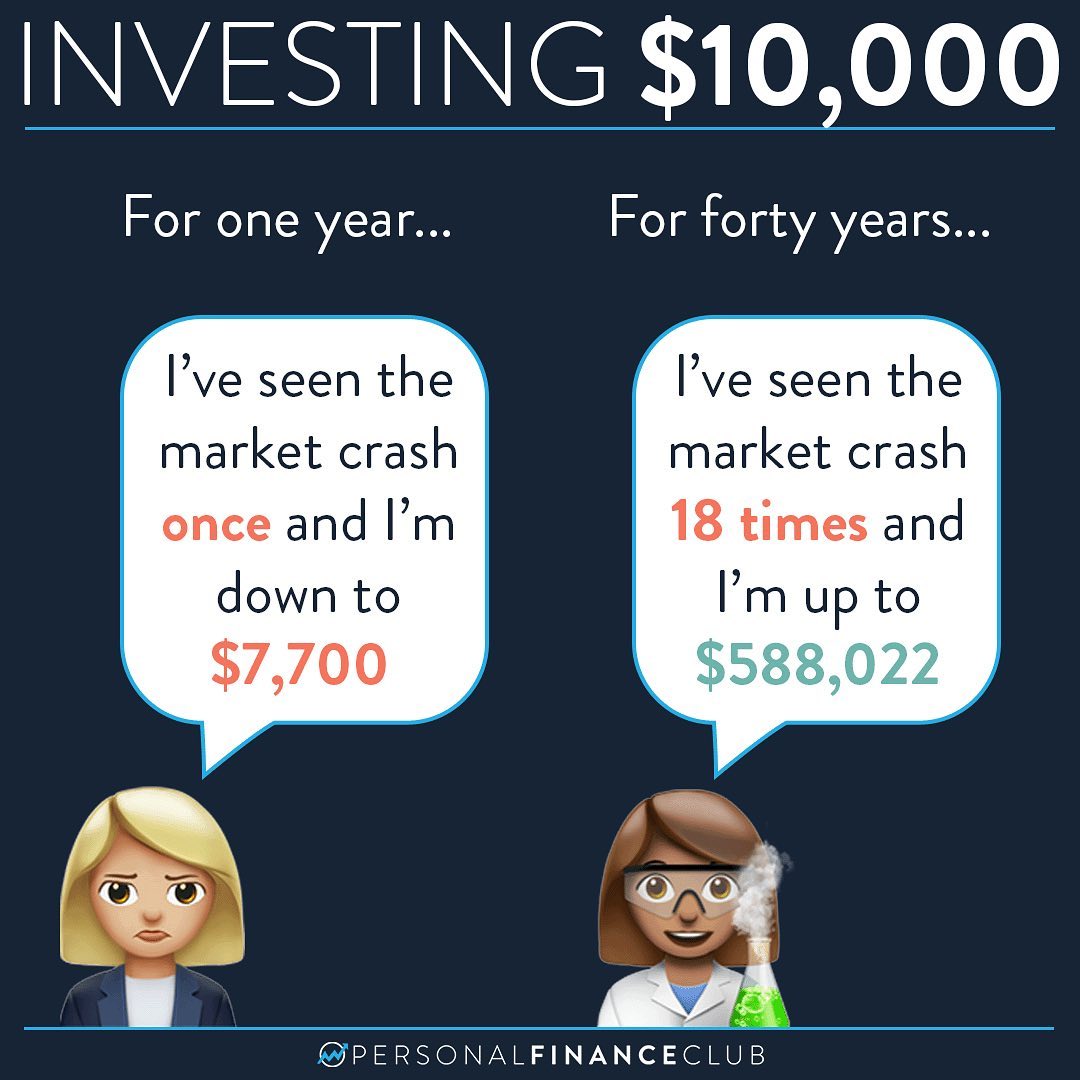 These numbers are real. Since September 1982 there have been 18 market "corrections" where the S&P 500 has dropped at least 10%. There have also been five bear markets (20%+ drop) and five recessions. Yet a $10,000 investment in an index fund in September of 1982 would today be worth over half a million dollars.
But if you are NEW to investing and just started at the beginning of this year, it probably feels pretty deflating. You hear all these wonderful things about investing but when YOU put your money in, it goes down. JUST YOUR LUCK, right?! Well, it's not bad luck. The market going down is a SURE THING. But it's four step forwards, one step back. The backwards step always comes. And if you're at the beginning of your investing journey (or thinking about starting), you should be THANKING YOUR LUCKY STARS we're in a backwards step right now. That means you get to acquire MORE SHARES for LESS MONEY. So when the market does start screaming upwards (which it will) you'll realize an even bigger amplification effect from your additional shares!
I hate to interrupt my market rant but we have BIG NEWS! Our brand new course "How to Money Like a Millionaire" drops TONIGHT at midnight (Pacific Time). It walks through how to set up your financial life like a millionaire. It covers tracking your net worth and credit score, debt, credit cards, frugality, budgeting, banking, insurance, taxes, and estate planning! We're also having a HUGE SALE. For you early birds who buy the first week, it's only $49 (normally $79) which is the lowest price we'll ever offer. You can also bundle it with our investing course and get both for only $98 (save $60!)
The course has a 100% money back guarantee, offers unlimited lifetime access including all updates, and 20% of SALES go to charity! So check it out! If you don't like it we'll give you your money back. We're trying to make you millionaires, not sell you junk.
As always, reminding you to build wealth by following the two PFC rules: 1.) Live below your means and 2.) Invest early and often.
-Jeremy
via Instagram